A clipping from CNN.com
Posted: September 22nd, 2009 07:15 PM ET
From
CNN's Lauren Kornreich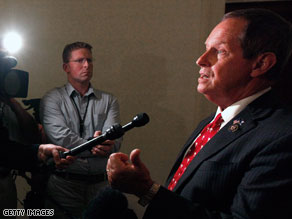 Georgia congressman: Wilson's outburst 'carefully calculated'.
WASHINGTON (CNN) - Rep. Hank Johnson is standing by his comments that Rep. Joe Wilson's "You lie!" outburst at President Obama "instigated more racist sentiment" and could lead to a resurgence of the Ku Klux Klan.
Johnson, a Georgia Democrat, wrote in theAtlanta Journal Constitution on Monday that he doesn't think that most of Obama's opponents are motivated by racism, but that he believes Wilson's comments "winked at a racist element" and that there is a small but "racially motivated fringe" among those who disapprove of the president and his policies.
"Wilson is a canny politician," Johnson said. "His outburst was a carefully calculated appeal to a particular constituency who question the legitimacy of Barack Obama's presidency. The symbolism of his act, which violated the rules of the House and attacked the dignity of the president's office, emboldened and validated those who believe that President Obama, despite having been lawfully elected, is an illegitimate occupant of the White House."
Johnson said that some feel "resentment that the president of the United States is a black man" and that the "risk of violence is real." He said he believes some of the angry protests during town hall meetings over the summer were also motivated by racism and warned that if that element of some opposition is ignored, it will "fester, grow and come back to haunt us in ways we haven't seen in decades."
I couldn't agree more with this article. We will see racism breakout like we did 40, 50, 60, etc years ago. It could possibly be worse. It's the ugly truth that a lot of you turn a blind eye to. White racists are waiting to wage their war on the rest of America, and this Presidential term might be their que to unleash it. In fact I guarantee it. Everyone should be ready. Train, prepare, and arm yourself to fight this white terroristic threat. It will happen, white racist Americans are at their boiling point with keeping their mouth shut about a black President. They will blow over. It's already beginning with this outburst from a racist. It's a sad truth, that most of you are not willing to face. This country will go to war within itself if we do not stop these racists. And if it happens we as a country will be open to attacks from Al Queda and the Mexican cartels.